KEEPING MY SKIN HEALTHY IN WINTER
For a long time, longer than I can even tell you, I've been trying to have lasting healthy skin. I've come to find that my skin changes throughout the year and so this winter I decided to shake things up a little.
I headed to one of my favourite skincare brands, The Body Shop, for some advice to make sure that I was using the right products. There are stores all across the UK, and in fact world, and if you nip in someone will be very happy to give you advice on which products you should be using and how.
I spent around 30 minutes with a very helpful member of the Body Shop team, talking through my current skincare routine, concerns and objectives. I had always thought that you should use a set of products from one specific range, suited to a specific skin type, but I quickly found out that one of the best things you can do it mix and match. And so that's what I did.
Here is a list of the products, in order, that I'm currently using in my skincare regime this winter.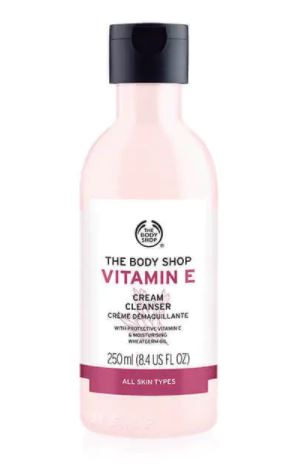 One of the first things that I do when I come home from work is take off my make up. My skin can become irritated during the day and applying this vitamin e cleanser with a cotton pad is one of the most soothing things.